About Fukuoka
Fukuoka is located in the northern part of Kyushu which is an island in western Japan. Though a modern city, Fukuoka is surrounded by natural mountains and seas and offers great comfort of living. Compact and convenient, the city is the gateway to areas throughout Japan and major Asian cities via the Fukuoka Airport located just 10 minutes away from the Hakata Station nearest our academy. From the Hakata Station, you can also take the Shinkansen to Osaka, Tokyo, and other locations in Japan.
While Hakata has engaged in foreign relations from long ago, it treasures its proud history and traditions. Tonkotsu ramen (pork stock noodles), motsunabe (hot pot of pork or beef tripe), and fresh seafood are part of the rich food culture that attracts many people in and outside of Japan.
Furthermore, the people of Fukuoka are open and friendly, so international students who may feel disoriented at first are sure to be welcomed with great hospitality. That is why Fukuoka is a pleasant place to live and the perfect city for your studies abroad.
Good Point

Natural seas and mountains
Compactness and convenience
Rich food culture
Friendly people
Dazaifu Tenmangu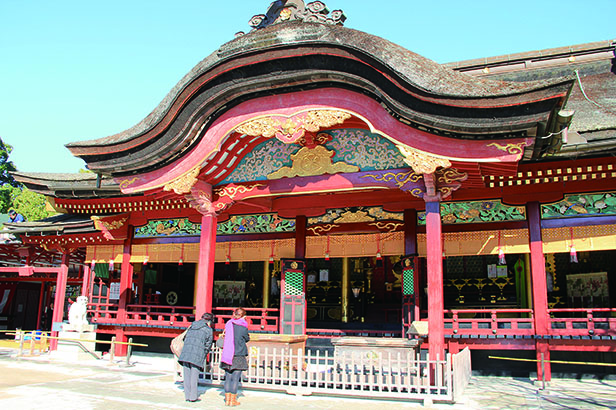 Many Japanese people come to this shrine to pray.
Called "kouyou" in Japanese, we call the color change of leaves.
The view of the red maple leaves is very beautiful. You will also want to visit in the spring.
I want to go in the spring too, and I love this place
Ohori Park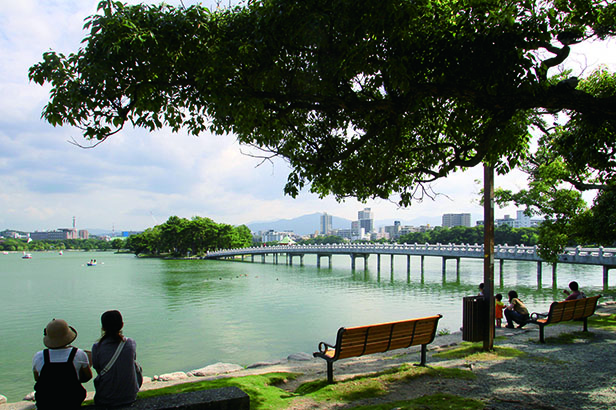 This park is in the middle of Fukuoka City, and the view of the large pond is beautiful.
Many people go jogging around this pond.
The firework event held here in August is very beautiful. Please come and watch.
Hakata Station Building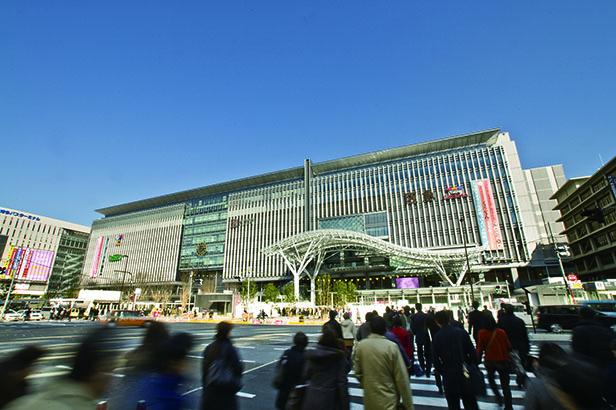 JR Hakata City, AUM PLAZA
From the rooftop of this a is nice view of Fukuoka City.It's very relaxing on sunny days
Fukuoka Tower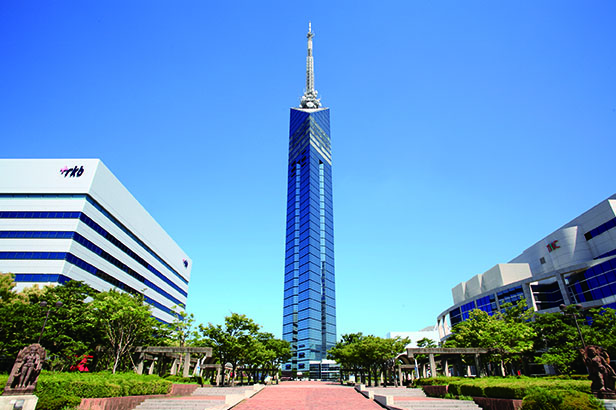 Taking the elevator to the top floor, you can see a beautiful ocean view as well as Fukuoka City.
Hakata Ramen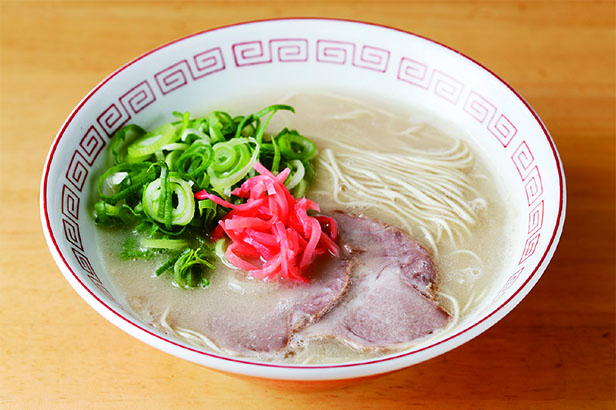 This is the most famous food in Fukuoka.When I ate it for the first time, I didn't think it tasted good, but after eating it for a second and third time I came to love it.
Nanzoin Temple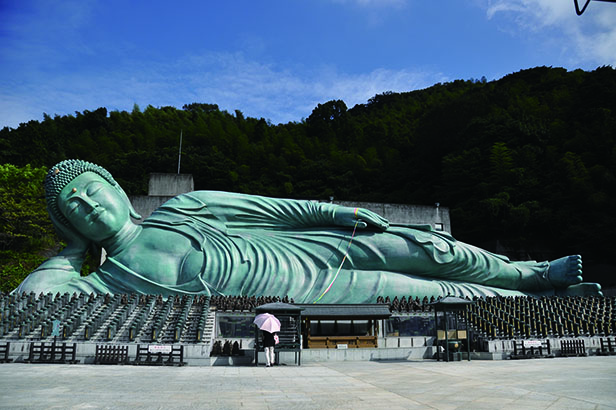 Fukuoka has many Buddhist temples. This temple has the world's largest "Reclining Buddha" statue. When you look at it up close ... "surprise!"
Nanzoin Temple is also linked to Myanmar and Nepal.
Uminonakamichi Seaside Park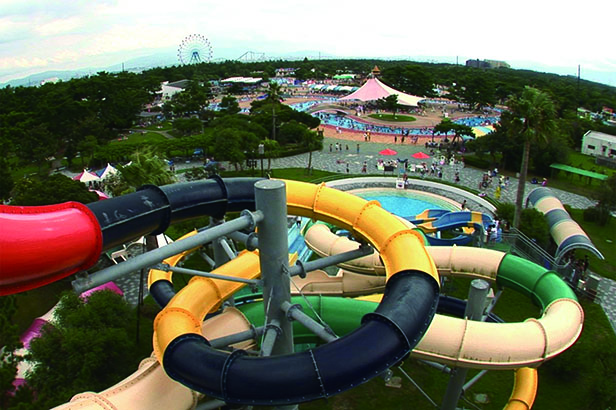 This is a big park near the ocean.You can cycle, play sports, and have a day camp in this beautiful nature setting. There is also a zoo.
Marine World Uminonakamichi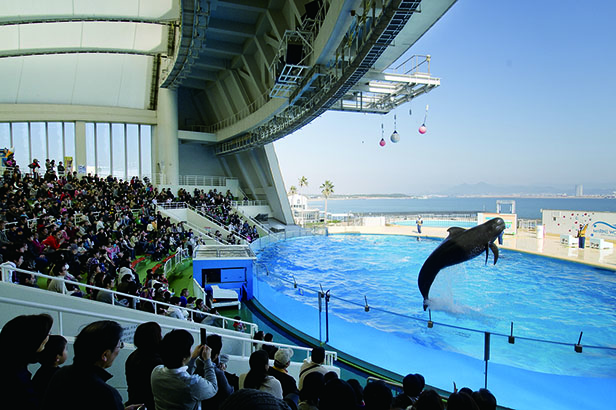 This is an aquarium where you can see fish and other marine animals. You can enjoy the cute, smart dolphins and sea lion shows too.
Motsu Nabe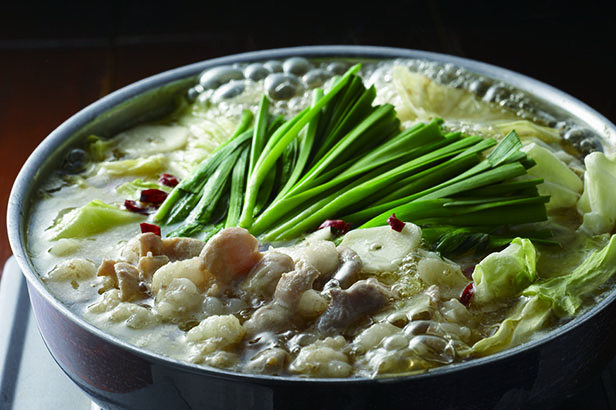 Depending on the restaurant,there are various flavors like soy sauce and miso. It is said to be Fukuoka's soul food
Nokono Island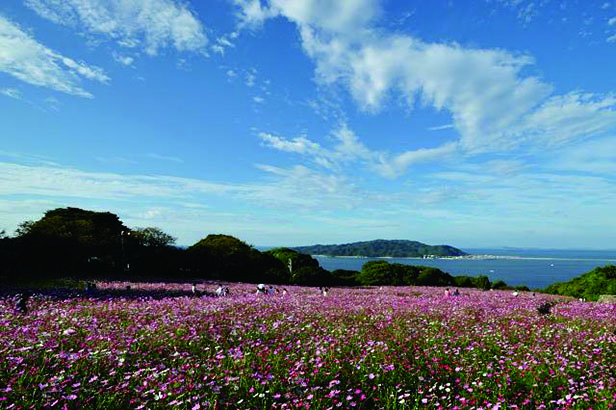 This island is close to Fukuoka City. You can enjoy viewing a variety of seasonal flowers such as canola flowers, hydrangeas, sunflowers, cosmos, and narcissus. Calm and beautiful, this island is like a big flower field.
Ito Island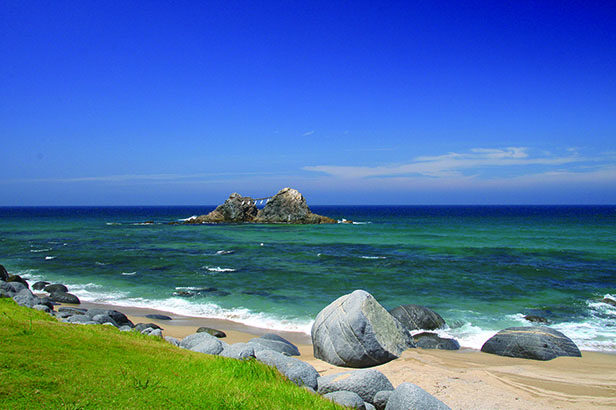 "Island" is in its name, but you can go to "Ito Island Peninsula" by car. It is famous for its coastal drive. The view of the setting sun is romantic.